Safety flooring comes in many forms and offer a range of benefits.  Usually, safety flooring is durable, non-slip but easier to clean and repels dust, stains and contaminants more readily than ordinary floors.
The types of flooring we install in hospitals and other medical contexts have strong antibacterial properties and are close to aseptic by design. For more on safety flooring with strong hygiene related properties please visit our hygienic flooring page.
Great Results With The Best Flooring Brands
LRS Commercial offer a wide range of safety flooring from highly regarded brands such as Altro, Amtico, Forbo, Karndean and Polyflor.  We work most frequently with these brands because the specifications offered by their floors are unbeatable. We can source flooring from any manufacturer though, so if you have a specific floor or brand in mind, just let us know.
We can advise you throughout the process, ensuring the suitability of the flooring and installation so you won't ever be unwittingly left with a product which is not entirely fit for purpose.
The Ultimate Choice For Safety Flooring
You won't be disappointed with the selection of flooring colours and textures that we can bring to your project, since the big name brands that we use have offerings to suit almost any application.  Aesthetics have never been more important as your customers are more sophisticated than ever. Our fitting work is efficient and reliable with optimal construction and high quality materials.
A prime benefit of our high-quality safety flooring work is that it doesn't have to look like traditional safety flooring.  With attractive hard-wearing materials and great finishes, they are often just as beautiful as regular flooring.  The main difference is that your floor will exceed safety regulations and save clients time on maintenance and cleaning.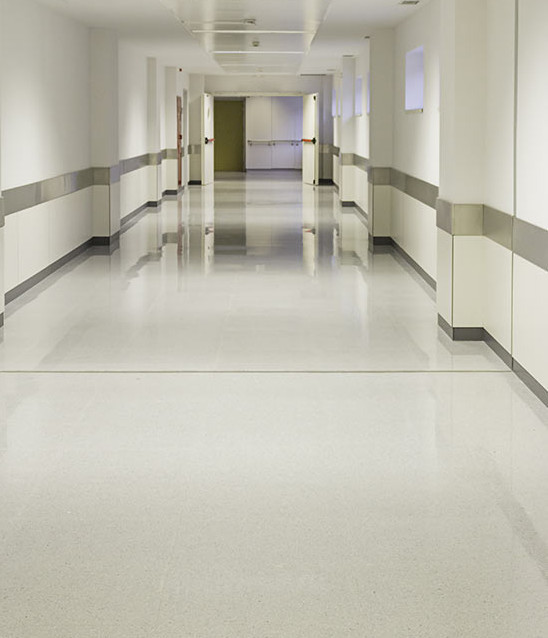 Commercial & Clinical Safety Flooring
Safety flooring can be used by in any commercial premises.  We have installed flooring for a variety of different sectors.  Typical applications are such as:
Commercial kitchens for restaurants, cafes, hotels
Conference and exhibition spaces
Retail units, outlets and shops.
Nurseries & child care facilities
Sports and leisure centres & changing areas
Sanitation areas, wet-rooms, wash-rooms, shower rooms & toilets
Hospitals, dentists, doctors and veterinarians
Residential homes & care-homes
Common-areas of apartment blocks, flats and sheltered accommodation
Universities, colleges, schools
Why Choose LRS Commercial Flooring?
We take a great deal of pride in our service, working hard to ensure that your durable, practical safety flooring is beautifully fitted and finished. We offer high-quality service at reasonable prices.  As we ensure that you are satisfied with the results we achieve, we are confident that you will be delighted with our service. We're not just another flooring company.
Get in touch with LRS Commercial Flooring
We have the flooring experience to complete your project


Perfect Commercial Flooring
Let us bring your ideas to life!
If you need a hard-wearing, durable and attractive floor for a more industrial or contemporary environment, you may also want to consider LRS Commercial Flooring's resin flooring options.